Emirates Premium Economy
---
As another year begins with the lingering shadow of the global pandemic, Emirates stands ready to step up a gear with quiet confidence and optimism, and the benefit of continued investments in product upgrades, sustainability initiatives and a rebuilt network of destinations, said an aviation veteran. Chandana De Silva, Area Manager for the award-winning airline for Sri Lanka and Maldives. Here are some excerpts:
---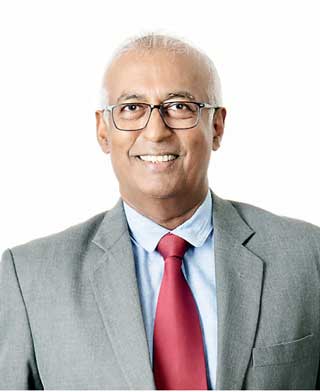 Chandana De Silva
---
Question: As we begin 2022 after two years of a global pandemic, how does Emirates see the year ahead?
I think it would be fair to say that we are quietly confident and optimistic about 2022. Certainly, the pandemic is far from over and many challenges remain. But with the number of people vaccinated and receiving their booster shots increasing daily, the outlook for air travel continues to improve. There will always be spikes in the number of COVID-19 cases in countries around the world, but I believe governments, businesses and consumers now know what to do to deal with the situation. We have learned a lot from the pandemic, and the lessons learned will be relevant for many years to come, even after the situation returns to normal.
Question: How is Emirates positioning itself to face 2022? Do you think you will return to profit for the coming year?
Emirates is well positioned to step up a gear in 2022. We currently operate passenger services to over 120 destinations, representing approximately 90% of our pre-pandemic network, and freight services to over 140 destinations. In line with the relaxation of global travel restrictions, we have increased the frequency of flights on our network, deployed our iconic A380 aircraft on more routes, and we plan to return to profitability over the next 18 months.
In Sri Lanka, we continue to see a high number of passengers to and from Colombo. We currently operate 21 weekly flights, providing customers with enhanced connectivity to Dubai and beyond.
Question: Is Emirates working to improve its energy efficiency?
Yes, and this is motivated by our commitment to the planet. Operating modern, fuel-efficient aircraft has always been at the heart of Emirates' business model, and we are committed to supporting initiatives that help minimize our CO2 emissions. We have already made great strides in energy efficiency and fuel economy, as well as operational progress in various areas of our business. We have an ongoing, multi-billion dollar commitment to passenger comfort and reducing our environmental impact. At the recent Dubai Airshow, we signed an agreement with GE Aviation to develop a program that will see an Emirates Boeing 777-300ER, which incidentally is the type of aircraft we operate on flights to Sri Lanka, conduct a test flight using 100% Sustainable Aviation Fuel. Emirates is also proud to be a member of the Clean Skies for Tomorrow coalition, established by the World Economic Forum.
Question: What is Emirates doing to boost the confidence of travelers?
In the context of the pandemic, Emirates has led the industry on numerous initiatives to reassure customers and boost travelers' confidence. We were the first to introduce free COVID-19 medical travel insurance for all customers, expedite reimbursements, offer generous waiver and rebooking policies, and help our loyalty program members retain their status and miles. In addition to improved hygiene protocols, Emirates has also rolled out several initiatives to improve health and safety and facilitate the customer journey. In fact, we were the first airline to sign up to roll out the IATA Travel Pass across our global network. We have also accelerated the installation of advanced biometric technology at our Dubai hub for smooth processing and a contactless airport experience.
Despite the challenges posed by the pandemic, we have also continued to invest in product enhancements, to ensure that Emirates' signature products and services continue to appeal to customers and deliver excellent experiences and value for customers. travelers in all cabin classes. In November, for example, we announced a major investment in a modernization program that will see 105 of our modern widebody aircraft fitted with our latest Premium Economy product, which has proven to be extremely popular since its introduction in January 2021. We are also considering installing a brand new business class product on our Boeing 777, with custom seats in a 1-2-1 layout.
At the end of the modernization program, Emirates will have a total of 111 Boeing 777s and Airbus A380s offering Premium Economy seats, including six A380s with four cabin classes.
Question: How is Emirates doing in Sri Lanka?
Sri Lanka has always been an important market for Emirates. Colombo was actually the fourth destination on the Emirates network as of April 1986, so we have been serving Sri Lanka for 35 years. In November, we announced the addition of two more flights to Colombo to support the resurgence of Sri Lanka's tourism industry as more key source markets ease travel restrictions. This increased direct flights between Dubai and Colombo to 14 per week, bringing our weekly schedule to Sri Lanka to 21 flights per week, with a daily flight between Colombo and Male. Emirates SkyCargo is also playing a key role in connecting Sri Lankan exporters to global markets as well as transporting COVID-19 vaccines and other essential goods to Sri Lanka.