Treat yourself to island seclusion on these dreamy getaways around the world. These undeniably exclusive experiences will leave you feeling fully restored and inspired by the moment you leave.
North America

Little Palm Island Resort & Spa, Florida
America's only private island resort is located off the fabulous coast of the Florida Keys, on a lush island dotted with crushed seashell paths amid verdant tropical foliage and exotic wildlife. This adults-only paradise offers thatched-roof bungalows complete with private outdoor showers, dazzling ocean views and all-new luxurious interiors. World class cuisine is served in the dining room surrounded by the natural beauty of the tropical island. SpaTerre returns and welcomes you to the inner sanctuary of Little Palm Island. Soothe your body and soul in the world-class spa featuring a two-story atrium with sculpted architectural details and a handcrafted tile fountain reminiscent of a Balinese hideaway. Whether you arrive by seaplane or private boat, begin your trip with refreshing cocktails at the reception and shore lounge before making the short scenic trip to your new island oasis.
Caribbean

Eden Rock St Barts
With its spectacular location in the Bay of St Jean, Eden Rock – St Barths has been synonymous with unique hospitality ever since French Caribbean mercurial aviator adventurer and occasional treasure seeker Remy de Haenen first welcomed guests to his Eden Rock home on the ocean in the 1950s. The place quickly established itself as the favorite private and discreet haunt of many Hollywood glamorous figures who quickly became friends of St Barths. Howard Hughes Greta Garbo Robert Mitchum Gore Vidal Baron Rothschild David & Peggy Rockfeller Princess Lee Radziwill…among many other beautiful and talented men and women…A sense of security and freedom was established…and style…and elegance laid-back… and witty… and ambitious… and it all continues to this day and is now growing stronger with the regular welcome of so many equally interesting and brilliant celebrity guests and friends of modern times.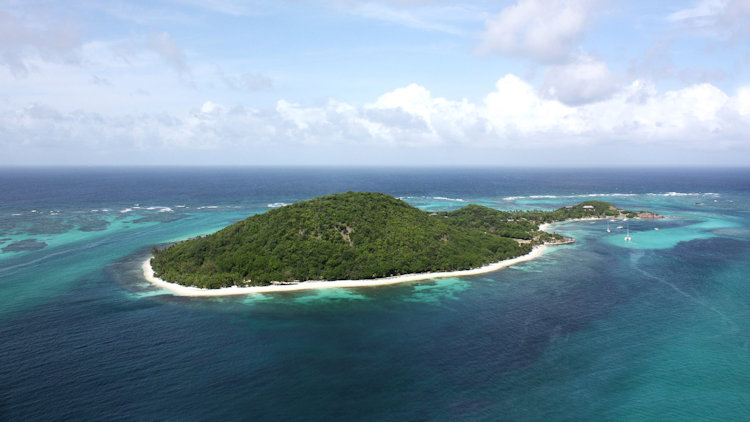 Little St. Vincent, Grenadines
Make Petit St. Vincent your exclusive for an upcoming celebration, destination wedding, or long-awaited reunion with your closest friends, family, and loved ones. Available year-round and accommodating up to 56 people in 22 ocean-view villas, the island offers the ultimate private island experience. The two restaurants and bars, the expansive wine cellar, the Balinese-run hillside spa and wellness center, and seven pristine beaches will be at your disposal for the duration of your stay. And you will also have a team of 130 employees entirely dedicated to you.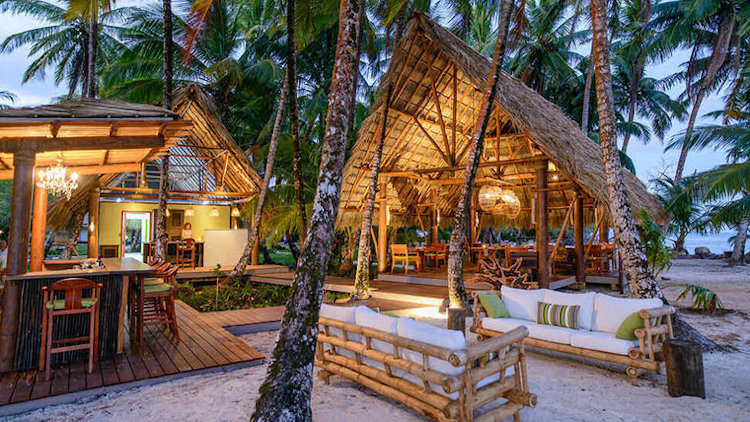 Latin America

Calala Island, Nicaragua
Experience barefoot luxury in a pristine paradise with a team of 25 Calala-lalas (also known in some parts of the world as "staff") for up to 8 people. They ensure that all your desires are met, in full transparency. Each of the four bungalow suites was designed by renowned architect Matthew Falkiner and carefully created with you in mind. Located directly along the beach and featuring the finest handcrafted Nicaraguan furnishings, each suite blends you seamlessly with your tropical surroundings. With just four suites on the entire 9.5 acre island, complete privacy is a must, as is waking up to the birds chirping at sunrise and sunset that must be seen for the to believe. The Caribbean and food rarely go together, but at Calala Island, they take their food seriously!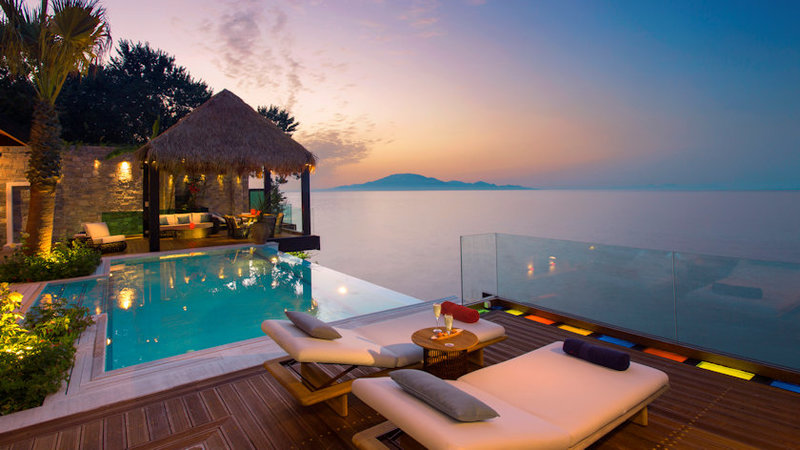 Europe
Porto Zante Villas & Spa – Zante, Greece
Porto Zante is the first villa resort in Europe where guests enjoy the ultimate privacy of world-class villas, located directly on the beachfront, and exceptional five-star hotel amenities and services. One of the "14 World's Best Family Hotels" by Condé Nast Traveler in the UK, "Top 100 Hotels of the World" by Hideaways and "Europe's Leading Beach Hotel" by the World Travel Awards, Porto Zante was the choice of a famous clientele, including political leaders, important businessmen and artists. A truly unique resort, decorated and furnished with selected pieces from Armani Casa and paintings by prominent Greek artists, it features world-class luxury beach villas, all with private heated pools, 2 restaurants serving fusion cuisine Greek, Mediterranean and Asian, 2 bars, an award-winning private waterfront spa, kids' club and state-of-the-art gym by Technogym.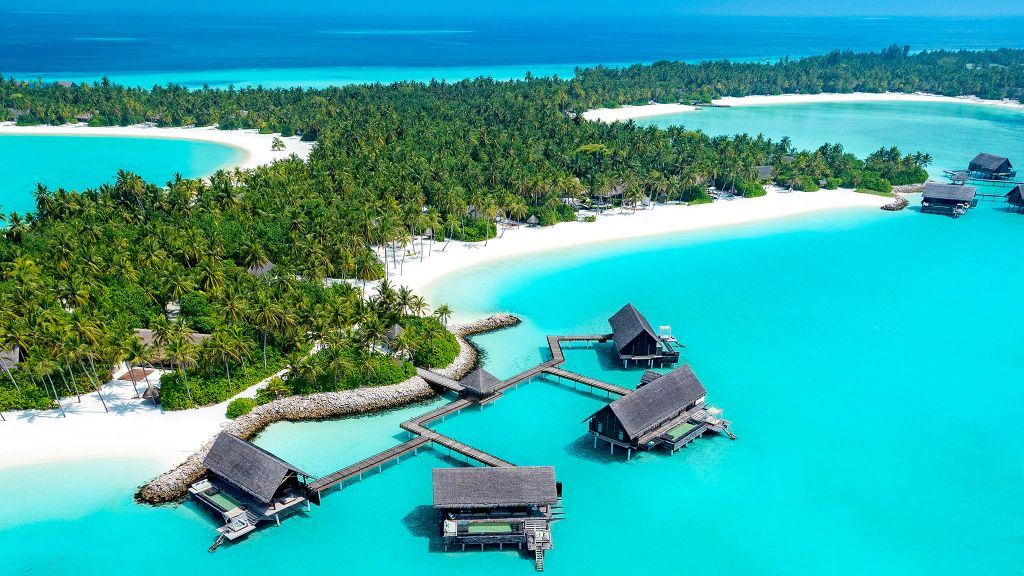 Asia

One&Only Reethi Rah, Maldives
One of the most magical destinations in the world. A place where clear turquoise waters meet cloudless azure skies. Where Indian Ocean breezes sway lush palm trees. A tropical paradise bordered by 12 pristine beaches. Your very own private island getaway. Immerse yourself in expansive and luxurious living in our expansive collection of beach and over-water villas, setting the benchmark for resorts in the Maldives. Discover eight incredible restaurants offering creative dishes from around the world inspired by produce from the surrounding oceans and our own organic gardens. From relaxing spa treatments to kayaking adventures on sparkling seas, our exclusive Maldives resort promises exhilarating adventures across sand, waves and sky.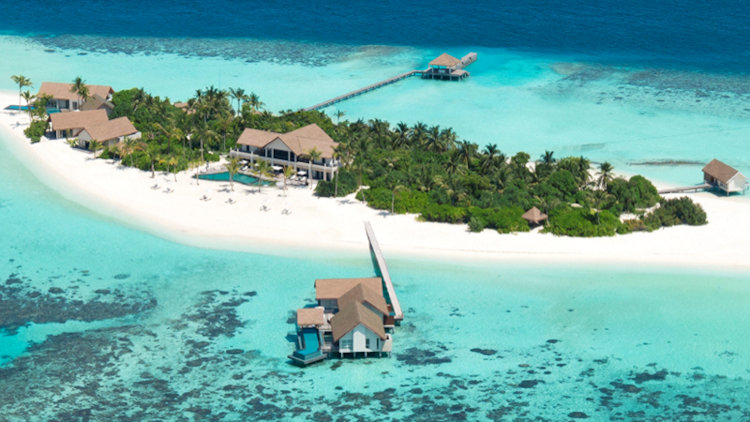 A tropical haven forbidden to all but you. Imagine retreating to a secluded wilderness where no one is watching and anything is possible. On Voavah, exotic jungle greenery is flanked by pristine white sand beaches and crystal clear water – and it's all here for you. The seven-bedroom resort on a private island in the Maldives is the world's first exclusive-use UNESCO hideaway. Make it your place of retreat, exploration, connection or celebration as you wish. Go ahead, pinch yourself, it's not a dream. It is paradise.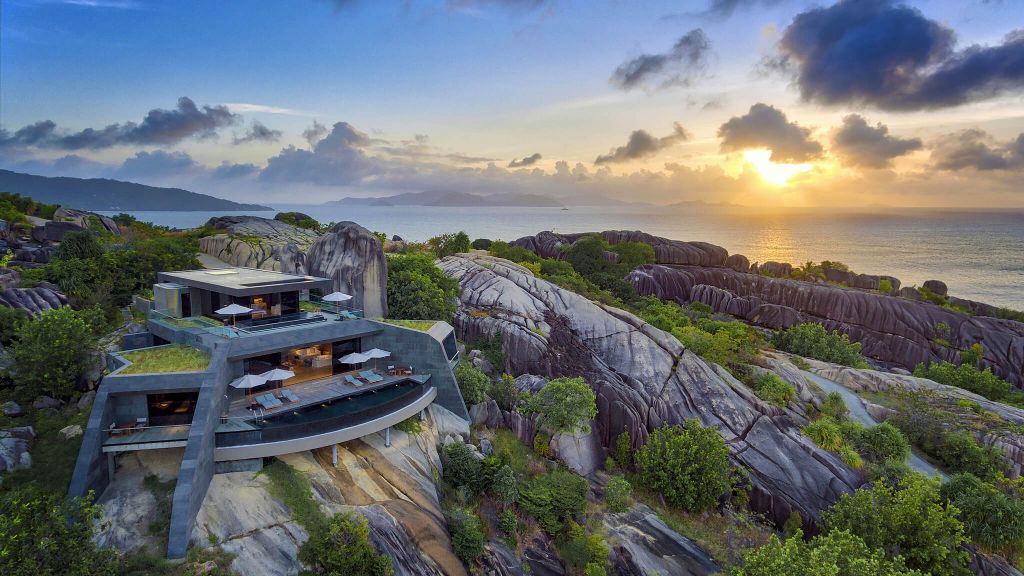 Africa

Six Senses Zil Pasyon, Seychelles
Discover the ecological jewel of the Seychelles and the private island home to Six Senses Zil Pasyon. Coral-lined beaches and massive granite boulders create an air of drama and beauty in this perpetual summer haven. Get in tune with nature, swim with turtles and enjoy an intimate destination that is a tropical ode to well-being and absolute comfort. Secluded and spacious, the one- and two-bedroom villas are surrounded by tropical greenery and offer unparalleled ocean views, private infinity pools, and GEM (Guest Experience Maker) butler service. The Six Senses Zil Pasyon Residences (pictured) perfectly embody the philosophy of "stealth architecture" – combining striking design with the raw beauty of its surroundings. Seeing is believing. To live is to love. Discover a private and secluded tropical nirvana that celebrates life with a host of exceptional activities. You will be tempted to tear up your passport and linger rather than leave.

Oceania

COMO Laucala Island, Fiji
Arrive by air – private plane or resort – and you'll begin to understand how COMO Laucala Island is a private island resort that recalibrates the idea of ​​luxury. It does this by unlocking new potential around what is becoming increasingly scarce: time and space, on your terms. Located in the South Pacific, the complex offers 25 residences in a unique place resembling Eden. Nature and architecture are sensitively blended, so the accommodation feels in balance with the rainforests, white sand and cobalt reef. To this, COMO also brings many experiences, from sailing to soulful and island gastronomy. The 25 residences of COMO Laucala Island all offer the utmost exclusivity and privacy in spectacular and unique locations around the north coast of the island. Everything is possible on COMO Laucala Island. Explore the ocean by snorkel and boat, go horseback riding on the beach, hike the island trails and much more.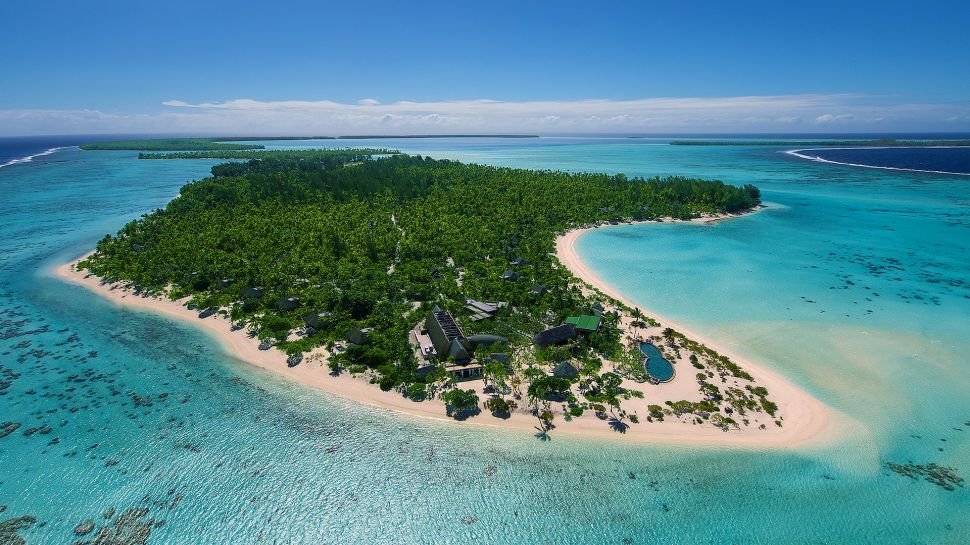 South Pacific

Le Brando, French Polynesia
Le Brando is a unique luxury resort on the beautiful private island of Tetiaroa in French Polynesia – an atoll made up of a dozen small islands surrounding a sparkling lagoon 30 miles northeast of Tahiti. The Brando offers carefree luxury amidst pristine nature. With access to the island by private plane, the resort offers 35 villas on white-sand beaches frequented by sea turtles, manta rays, and exotic birds. The resort was designed to reflect Polynesian lifestyles and culture.