Brits are set to melt on the hottest day on record in the UK as temperatures are set to hit 40C amid growing travel chaos.
It comes after the mercury peaked at 38.1C at Santon Downham, Suffolk on Monday, making it the hottest day of the year and the third hottest day on record, after 38.7C in Cambridge in 2019 and 38.5°C in Faversham, Kent, in August. 2003.
Mercury will sizzle to possible highs of 41C in isolated areas on Tuesday, making the country hotter than Jamaica, the Maldives and Barbados – with rail users warned of delays, cancellations and changes to train services.
"We then have a fairly unprecedented day tomorrow, the temperature will be very hot throughout the day, before rising to 40°C, possibly even 41°C in isolated places across England in the afternoon class.
"This will make it the hottest day on record and the first time we will see temperatures as high as 40C."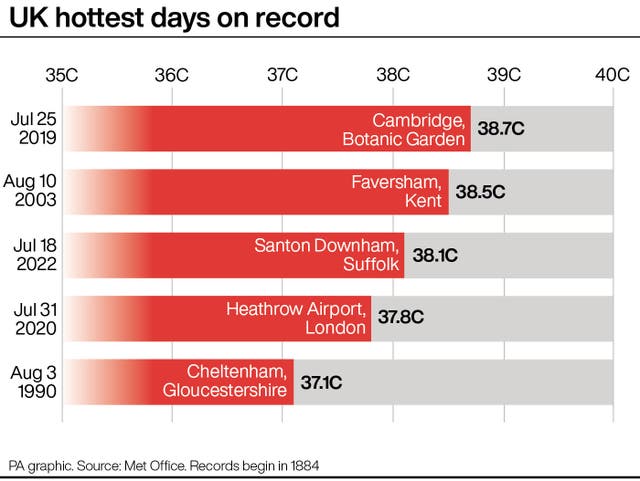 The Met Office warns that temperatures overnight into Tuesday remain in the low 20s and possibly mid-20s in isolated locations, and it appears to be the hottest night on record in the UK.
Most routes across England and Wales will be affected by hot weather on Tuesday, according to National Rail, with customers urged to only travel if "absolutely necessary".
Network Rail said: "There will be delays, cancellations and last minute changes to rail services due to the unprecedented record heat on these days."
"This could pose a significant health risk to people stranded on services or roads during the heat."
There will be no Thameslink or Great Northern trains running to any location north of London, from London Blackfriars via St Pancras, or from London King's Cross or London Moorgate on Tuesday.
Merseyrail said the number of trains running and journey times would be "severely affected" with some routes closed completely.
LNER will not run any trains from South York and South Leeds to London King's Cross.
Transport for London (TfL) said London's rail network would also operate a reduced service on Tuesday due to safety restrictions put in place to deal with the heat.
Elsewhere, council sand pits were on standby to spread light dusting of sand onto the molten roads.
The RAC forecast that the number of vehicle breakdowns on Monday and Tuesday could be up to a fifth higher than normal.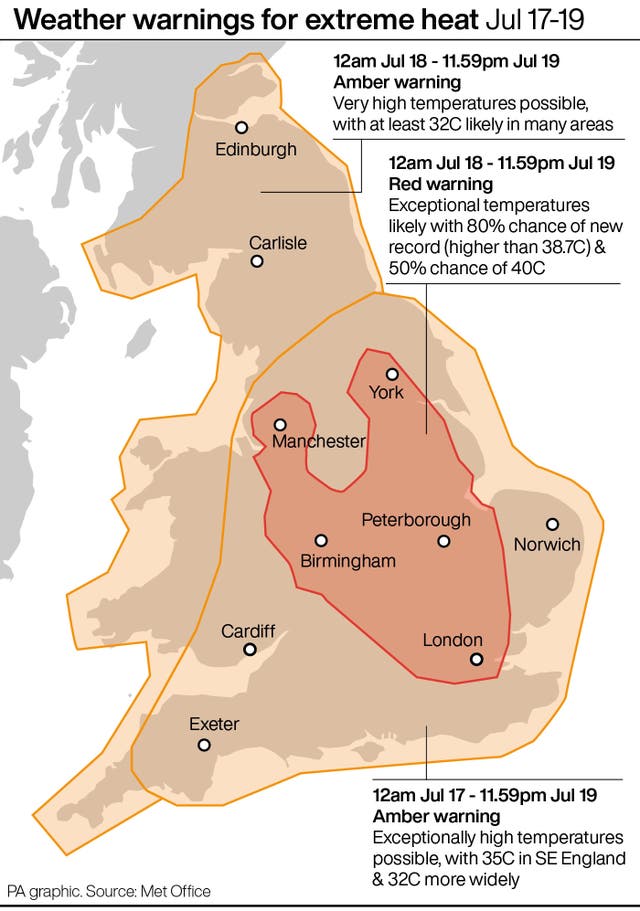 It comes as a 14-year-old boy is reported missing and believed to have drowned on Monday afternoon after getting into difficulty in the River Thames in Richmond, west London.
The teenager was seen entering the water at Tagg's Island in Hampton and after a search he was presumed dead, with officers calling the incident a 'tragedy'.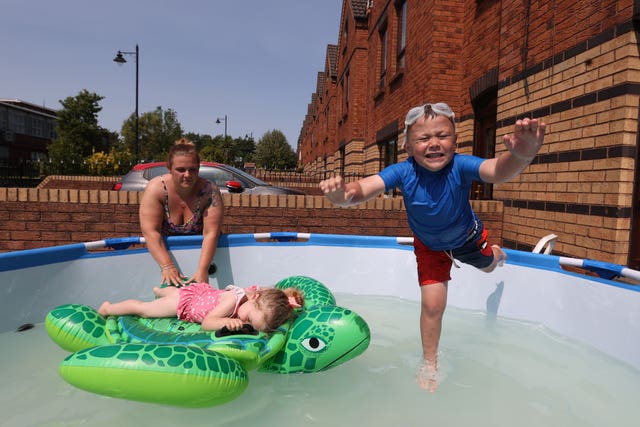 It came as the family of 13-year-old Robert Hattersley said they were "absolutely devastated" after he died when he got into trouble in the River Tyne in Northumberland on Sunday.
Emergency services have also confirmed the deaths of a 16-year-old boy in Salford Quays, Greater Manchester, a 16-year-old boy in Bray Lake near Maidenhead, Berkshire, and a man in 50 years old in a tank near Leeds under similar circumstances.
The UK health security agency has issued a level 4 health alert – described as an 'emergency' – and the UK is subject to its first extreme heat red warning for much of England, issued by the Met Office.
Britons were told to stay indoors during the hottest time of day, between 11 a.m. and 4 p.m., and to wear sunscreen, a hat, stay in the shade and hydrate with water – and there are warnings about swimming in lakes, rivers and reservoirs.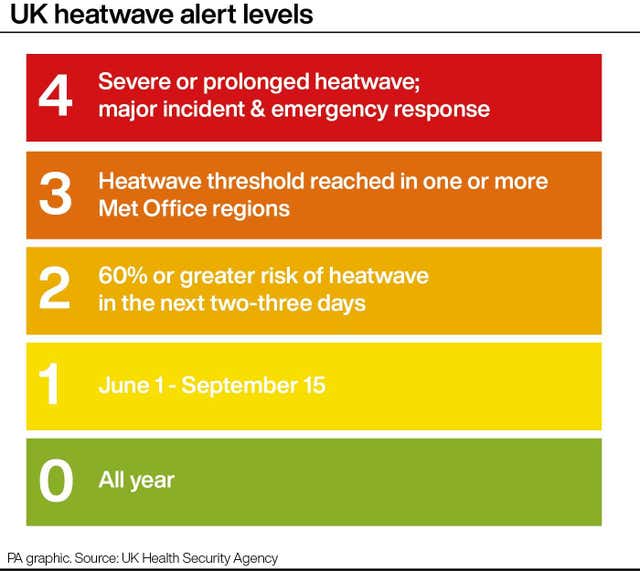 Water companies have seen "unprecedented peak demand", with people being encouraged to "look carefully" at their water usage and urged not to waste it.